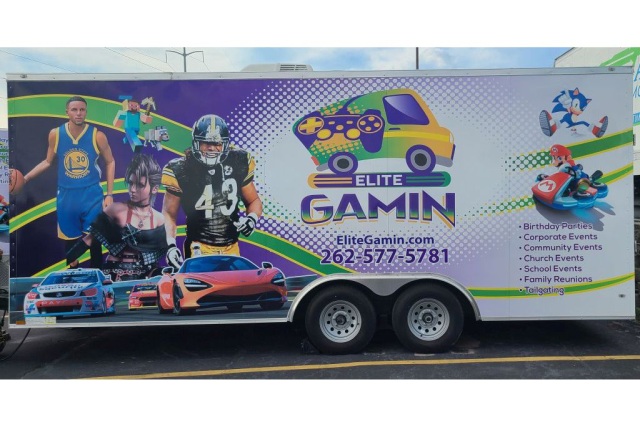 We have the NEWEST and BEST Game Truck in
Southeast Wisconsin!

Elite Gamin is the Best Gaming Truck in Kenosha! We bring the ultimate gaming party and laser tag Right to You!!! So sit back relax and enjoy the party while your Game Coach makes sure that you and your guest are thoroughly entertained. The party is brought to your house, not in it. No set up or clean up. Great for all ages and all types of events. Our State of the art mobile game truck is climate controlled so your party will be amazing whether rain or shine.

5 HDTVs
Video Gaming with all the latest game titles
Gaming Consoles The latest X-Box 360
Fully Independent Power Source
X-Box One
PS4 & Nintendo Switch games
Multi Player Scenarios
Game Coach to Facilitate the Party
Age Appropriate Games
Live Satellite Television Available
Full Surround Sound System and Streaming
Music Services: iHeart, Sirius, and Pandora.
Our game truck will accommodate up to 20 players inside and 4 additional players outside on our HDTV screen. Our outside screen can host a variety of different events such as Tailgating, Family Reunions, and Festivals just to name a few. We also offer Laser Tag which accommodates 8 players. We bring it right to your backyard! You can add Laser Tag with or without the Game Truck. Book with us today and allow us to take the stress of
party planning off your hands! Elite Gamin currently serves a 30 miles radius in and around Kenosha and Southeastern Wisconsin. At our discretion, we can service up to 50 miles outside our service area.
Please contact us for more information.
Contact Now
Elite Gamin can accommodate all of your party needs. We specialize in Birthday Parties. Elite Gamin is perfect for graduation parties, corporate events, school functions, sports viewing, charity and church events, and tailgating. Your guests will enjoy the latest music, sports, and interactive multi-player age-appropriate games.
We are a family managed business and have lived in the Kenosha area for over 20 years. We take pride in servicing our community. we understand the need for games to be age appropriate for your child and his/her guest. We want to provide our customers with a unique experience. Our Game Coaches are engaging and patient with kids. We work hard to make sure that lasting memories are made. No two events are the same, we will customize your event to meet your individual needs. We will go above and beyond to insure that you and your guest are satisfied! We network with other venders to help you get the most out of your event! In all that we do we do it with excellence! We look forward to bringing Elite Gamin to your next event!
Contact Now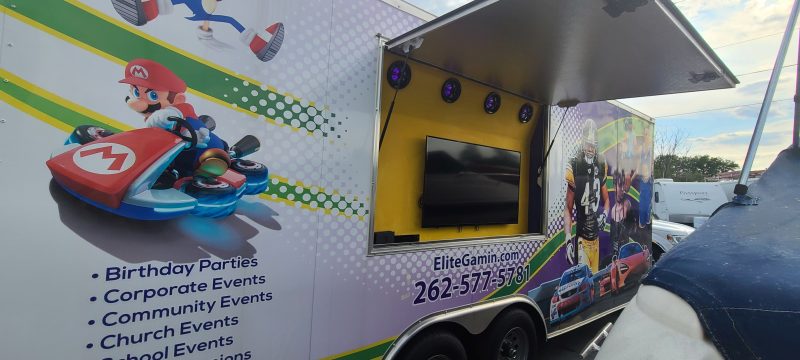 Are You Ready For
Elite Gamin?

We're the newest, most innovative gamer experience in Southeast Wisconsin
Our game truck is more comfortable than any house, louder than any movie theater and it's fully interactive, allowing you to
play all of the newest games in high definition.
Elite Gamin is a family-based business. We are locally owned and operated, we are the only game truck in the area that offers
a Satellite Dish, so we're perfectly equipped for tailgating. We're licensed, insured, and we make sure customers of all ages can
have fun with us. We look forward to serving you soon!
Book Us Now